Netgear Orbi WiFi routers are known as quick smart home WiFi. Mesh-capable routers, as is becoming more prevalent in society, offer several notable advantages over regular devices. Rather than looking like a WiFi router, the Orbi resembles a work of current art. Mesh routers work as a performance enhancer, so rather than having a centered location, you get faster speeds thanks to the WiFi devices. They're simple to set up, and you can simply grow your network with a VPN. Of course, this is dependent on your requirements.
The business is famous and offers a variety of features and options. Furthermore, the ability to download and install VPN software is one of them. To avoid any misunderstanding, the OpenVPN software allows you to connect to your system from anywhere in the world. This isn't exactly the same as encrypting your entire house network for an outgoing connection with a VPN. However, this type of VPN configuration is not supported by Netgear Orbi devices.
Nevertheless, you can install a VPN client on each of your devices. All of the VPNs mentioned in this article enable you to install applications on an unlimited number of phones or PCS and connect to at least five of them at the same time. Here's a quick rundown of our top five VPNs for Netgear Orbi WiFi.
As previously stated, the Netgear Orbi WiFi router resembles a work of art rather than a simple router. The ability to add OpenVPN software to the device is one of the system's strong points. You can then use a VPN to connect to your house network while traveling. To safeguard all of the phones and PCs on your network when they connect, you need to add a secondary router. This includes your network's "IoT" gadgets.
Nobody wants their equipment to be hacked, whether a smart appliance, an intercom, or a personal assistant. You can safeguard your devices by connecting to a VPN; however, this needs a second router and slight technical knowledge. When you add an encryption layer to your network, it secures everything. Anyone attempting to hack your network is going to have a challenging time doing so.
You may install ExpressVPN's third-party firmware on particular devices. The R6300v2, Nighthawk R6700v3, R6400v2, Nighthawk R7000, and Nighthawk R7000P are among the Netgear devices that are compatible. One of these WiFi routers might be placed in front of your Netgear Orbi system to act as a VPN passage, which would enable you to encrypt communication as it traversed your system.
1. Best VPN for Netgear Orbi 2022
We have to look at a few things to get the best solution to this question. As a result, we concentrate on security considerations. We can let you know that the best VPNs for Netgear Orbi are based on those characteristics.
When you add a WiFi router, as listed above, as a backup device to your Netgear Orbi system, you get strong military-grade encryption to help secure the privacy of all of your devices.
Service providers who adhere to a rigorous no-logs policy
Support for various mobile platforms, including Mac, Windows, Android, iOS, and Firestick.
To avoid lost connections, use stable and large networks.
From there, we look at the best VPNs for Netgear Orbi. The five best VPNs include:
NordVPN
ExpressVPN
CyberGhost
Private Internet Access
IPVanish
1.1 NordVPN – Best Overall Netgear Orbi VPN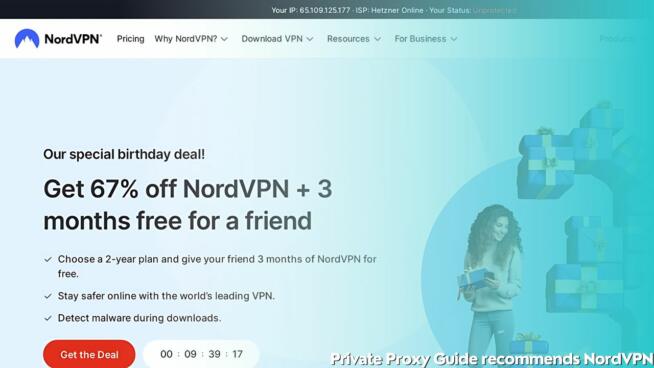 While NordVPN isn't the most well-known VPN provider, they have created a name for themselves. They're extremely well-known, and the business was named after the Nordic values of confidence, trust, and innovation. Since its inception in 2012, you can't go anywhere without seeing some sort of commercial relation to them. They claim to have 12 million users around the world. As a result, if you choose NordVPN, you are going to be in excellent hands. They operate a wide network to assist you in achieving your VPN goals.
It can be difficult to watch your favorite sporting match, event, or game if you are a sports lover. This can be a major issue if you go internationally. Connecting to a NordVPN server is the solution to this problem. All you have to do now is select the appropriate spot. If you have an ESPN account and are out of the United States, connecting to a US VPN server allows you to watch it without any problems.
NordVPN review
NordVPN
1.2 ExpressVPN – Fastest VPN for Netgear Orbi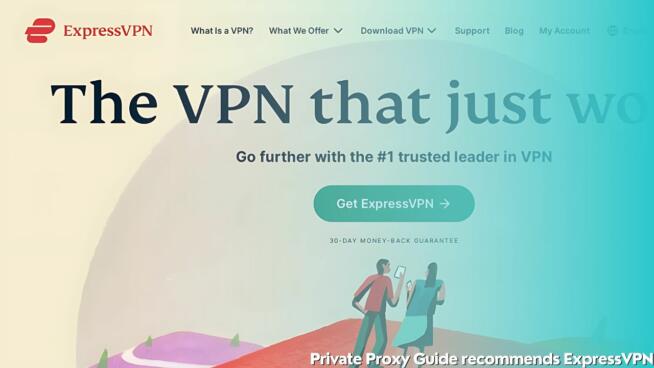 Of course, sports lovers can be found all across the globe. Since various individuals are interested in different things, you may expect significant regional support wherever the event is held. However, you should not expect to be able to see it if you are not in the region. The aim is to link to an ExpressVPN VPN server. You are going to be able to view the local broadcast if you connect to one in the vicinity of the athletic event. Simply ensure you have a subscription for one of the game's streaming choices.
When you're outside the nation, one of the amazing things you can do with ExpressVPN is unblocking material. Regardless of whether you're a British citizen or simply like the British Broadcasting Corporation's excellent programming, you are aware that it is only accessible in the United Kingdom. You can view your favorite BBC programming from the United States or other nations around the globe when you use ExpressVPN's MediaStreamer service. In comparison to connecting to a VPN server, you also enjoy a speed boost.
ExpressVPN review
ExpressVPN
1.3 CyberGhost – Safe VPN for Netgear Orbi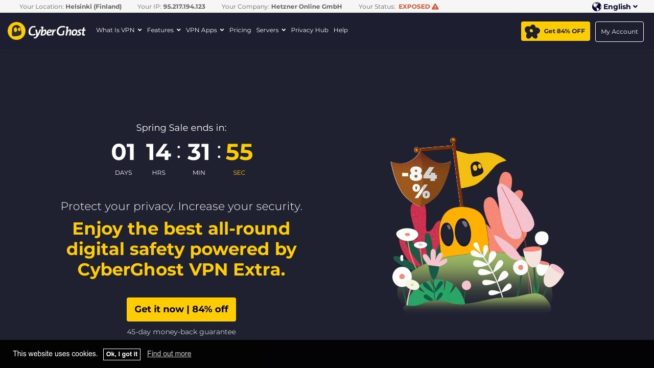 Try connecting to a CyberGhost VPN server if you play classic games that have moved to websites or games that you would play locally in one. Some games, however, may take a long time to load. That, of course, is dependent on the internet you use. This is frequently due to adverts or procedures that are operating in the background while the page is being loaded. You can block all of the factors that might slow you down when enjoying your favorite web games by joining a VPN.
Even though streaming is common these days, it is easy to become bored with some of the options. Boredom can be alleviated by connecting to a CyberGhost VPN server. All you have to do is select a server from a different part of the world. You have to access an entire new library of information that you might not have seen before. Furthermore, you are going to be able to visit a lot of new libraries and have a look at others when you're ready to move on.
CyberGhost review
CyberGhost
1.4 Private Internet Access VPN – Best Budget VPN for Netgear Orbi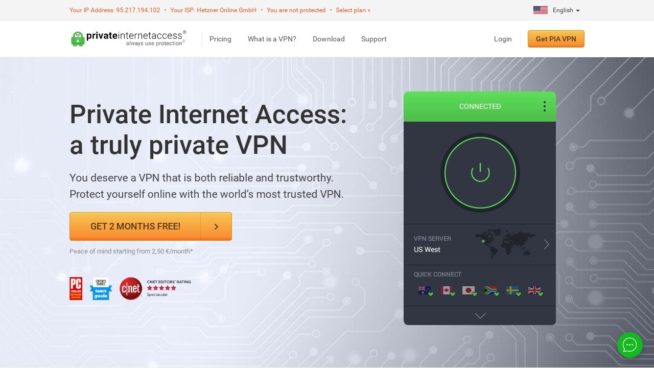 If you don't already know, one of the main reasons to connect to a VPN server from Private Internet Access is to get access to information from other countries. All you have to do is connect to a VPN to watch one of the excellent shows from the CBC, BBC, or any of the other fantastic networks across the globe. Next, choose a server in the location you want to visit. As a result, the blocking software is going to think you're in the right place.
You can't go wrong with Private Internet Access if you want to safeguard your family members with a VPN. Unlike some of its competition, it allows users to connect to up to 10 devices at the same time. This is fantastic news for families who wish to keep things safe. If that seems like a large number, keep in mind that it includes all laptops, mobile devices, and possibly routers, regardless of their location. As you can see, Private Internet Access is prepared to assist you.
Private Internet Access Review
Private Internet Access
1.5 IPVanish – Netgear Orbi VPN With Many Locations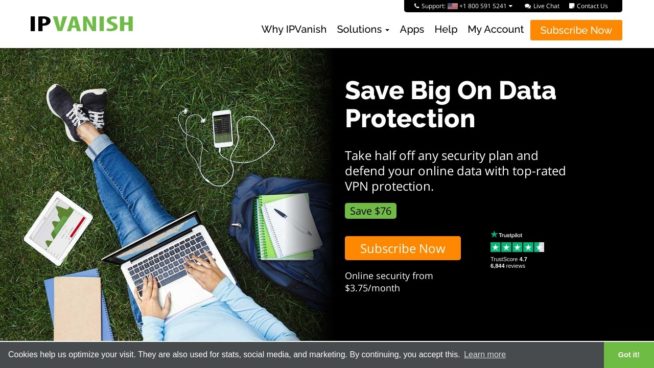 Regrettably, not many countries allow their residents to view content as freely as others. Several countries openly claim to monitor the online activities of all internet users. That is why you must connect to an IPVanish VPN server. If you travel to China and watch the wrong item on the internet, you may find yourself in trouble with the authorities. Joining a VPN server, on the other hand, gives you an extra layer of security that keeps you safe online irrespective of where you are.
When gaming, one of the major benefits of utilizing IPVanish is that it can help you avoid lag. Even though you might not realize it, network traffic may help your game run faster if you use a VPN. Whether you play competitively or informally, a VPN might mean the difference between life and death through gameplay. All you need to do is connect to the nearest server available, and you should be able to avoid any latency problems.
IPVanish review
IPVanish
2. Netgear Orbi VPN FAQ
Is ExpressVPN the Best VPN for Netgear Orbi?
ExpressVPN was founded in 2009 and has since evolved into a leading VPN provider. ExpressVPN is an excellent choice if you want to safeguard your online security, access your favorite streaming services when traveling, or watch live sports. You can count on their network to provide you with quick and stable connections.
3. Conclusion
To summarize, if you're looking for a VPN service that is going to work with your Netgear Orbi router, we've compiled a lengthy list for you.
All of the VPN services listed here are excellent at safeguarding your online anonymity, and the majority of them also come with additional capabilities.