VPNhub is a product of Pornhub, but the US-based AppAtomic developed its software, and StackPath owns its servers. It isn't related to porn or any other adult content — it's just a usual VPN service.
According to its website, VPNhub offers unlimited bandwidth and lightning speeds, and it's streaming-friendly, so we'll find out if that's true.
It offers AES 256-bit military-grade encryption with the OpenVPN protocol. It has a kill switch and a DNS and IPv6 leak protection. Nevertheless, VPNhub and its third parties collect a lot of user data.
It has 1,000 servers in 60 countries on its premium version. However, its free version comes with only 1 location.
Only its 1-month premium plan comes with a 7-day free trial, and it's quite expensive. The lowest price is $3.49/month for the 3-year plan, but there's no sign of an existing money-back guarantee policy. If VPNhub isn't what you're looking for, choose a VPN that suits your needs.
Streaming — Unreliable
Unblocked: None
Since VPNhub is a product of one of the most popular porn streaming sites, one expects that the VPN should be designed to have reliable abilities to unblock streaming platforms. I contacted its customer support via the ticketing system about which streaming platforms it unblocks, and the answer was very short and quite indefinite, saying they can't determine that.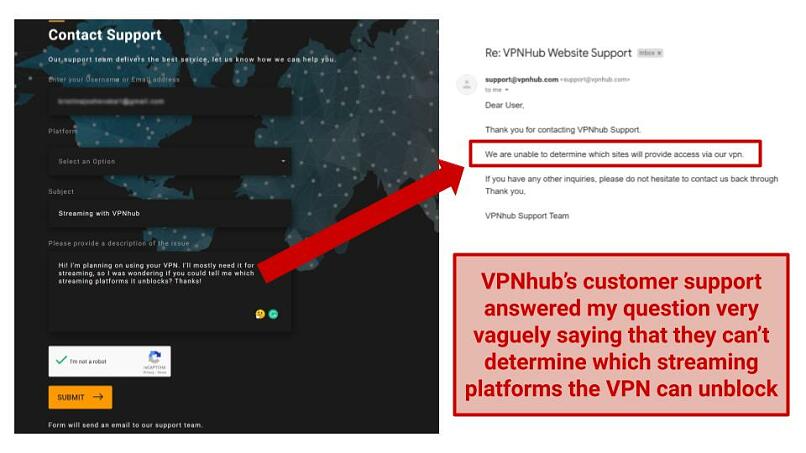 I feel like every VPN service should know which platforms it can unblock, so I found VPNhub's answer not very reassuring and convincing for someone who is interested in trying out its apps for unblocking geo-restricted content.
Before paying for a service, everyone would like to know if it can do what it promises. I couldn't confirm if VPNhub's promise of unrestricted media streaming was true with the answer I got, so I went on its free Android app, and when I opened it, there were 5 slides about what you'll get on its Premium plan, prompting you to get an upgrade from the free version. Here's what it said about streaming:
This is very contradicting — if they promise liberation from geo-restricted content on streaming sites, they should know which platforms the VPN can unblock. In that regard, all this seems like empty words since even their customer support can't prove it, so I'd recommend you take a look at these reliable VPNs for streaming instead.
Blocked By: Netflix, Disney+, Hulu, HBO Max, DAZN, YouTube, Amazon Prime Video, and BBC iPlayer
VPNhub's free version only offers servers in the US, which means that all platforms (and libraries) that are available outside the US won't be reachable. This includes BBC iPlayer since it only works in the UK. However, it also includes all non-US libraries of streaming platforms that are available in the US and in other countries, such as Netflix, Disney+, and Amazon Prime Video.
Speeds — Advertises Blazing-Fast Speeds on Its Premium Plan
There wasn't much information about the speeds VPNhub offers on its free version. Most of what I found was related to the Premium plan, so that makes me think that the free one is a bit neglected, and I don't have high expectations for it.
Fortunately, I found at least some information related to its free VPN service speeds from the FAQs on its (free) Android app. The good thing is that you can use as much data as you want, but the bad news is that if you go over 2GB, your speeds might get slower.
Keep in mind that the free version only offers US servers, so if you're located far away from the US, your speeds will be significantly affected.
Are VPNhub's Speeds Fast Enough for Gaming? Not on the Free Version
VPNhub's speeds on its free version might be okay-ish for gaming only for US residents since all of its free servers are located in the US. Otherwise, if you live far away from the US, your speeds will most likely get slower and the ping higher, which is bad for gaming. An acceptable ping would be under 100 ms — ideally around 40-60 ms. Anything higher than that will produce lag, and you won't be able to enjoy your favorite games.
Server Network — Decent-Sized
VPNhub's premium version offers 1,000 servers in 60 countries. On its website, it states that you can "switch servers and countries instantly and as often as you like, to bypass restrictions and get global content."
However, its free version comes with just 1 server location — the US. You can't choose a specific server because VPNhub automatically connects you to one. This server is titled the Free Optimal Server. If VPNhub chooses a server that's far away from you (even if you're located in the US), the speeds may be affected by the long distance to your actual location.
Security — Military-Grade Encryption
VPNhub offers military-grade AES 256-bit encryption. It uses SHA 256 for authentication and provides security through the OpenVPN (TCP/UDP) protocol. TCP is more reliable when it comes to bypassing geo-restrictions, whereas UDP offers faster speeds. However, it also offers IKEv2, IPSec, SSTP, and PPTP.
For an extra level of security, you can switch to OpenVPN TCP port 443 if you're located in a highly-censored country. In addition, VPNhub comes with a kill switch and provides DNS and IPv6 leak protection.
On its website, it says that VPNhub will give you total online privacy, and it will protect you from malware or hackers even on public WiFi.
Privacy — Logs User Data
From what is available in its Privacy Policy, it is safe to say that VPNhub logs a lot of user data. The free version contains a lot of ads, so the advertisers can collect some of your information in that manner. The premium version should be safer since VPNhub says that the data it collects is "non-personally identifiable".
The Privacy Policy applies to information that is collected from its VPN services and apps, the website, your email exchange or other communication with the VPN, and your interaction with VPNhub's advertising and third-party services that include links to its Privacy Policy.
Furthermore, it says that it collects your IP and stores it during your VPN session but deletes it after. It also states that it doesn't keep logs of your online activities, but there's no audit to prove this claim.
It continues by saying that VPNhub and its third-party service providers collect device-specific information, including the unique mobile ID, OS, browser type, and version, among other information. It also collects transaction data when you purchase its services.
VPNhub will disclose your personal information to members of the corporate group who help them with their services, service providers like payment processors, and legal successors or buyers. It also states that it can access, preserve, and share your personal information with law enforcement if needed.
Since AppAtomic operates VPNhub's website, and its VPN apps (free and paid), your data is under the jurisdiction where AppAtomic is headquartered — the US. This is not the friendliest location for a VPN service since the US is a member of the Five Eyes Alliance. The countries in this alliance can share user data between them if needed.
Pornhub, VPNhub's parent company, is based in Cyprus, so to some extent, the Cyprus laws govern VPNhub's privacy policy. The owner of these 2 is MindGeek — one of the largest companies in the porn industry today. Taking that into consideration, some people might not trust VPNhub with their data.
Worth mentioning here is that StackPath, a popular cloud services company, owns VPNhub's servers. This means that VPNhub doesn't have 100% control over its servers, so your data will be handled by a third party.
Torrenting — Not Recommended
VPNhub doesn't mention anything about torrenting on its website. I wouldn't recommend using VPNhub for torrenting anyway, especially on its free version because it only offers servers in the US.
Also, none of its servers are P2P-optimized, and it logs quite a lot of user data. If you decide to go for its premium version, you can choose a server in a country with safer torrenting laws. Plus it has a kill switch, which is a very useful security feature that protects your IP from getting exposed if your VPN disconnects unexpectedly.
However, I'd suggest using some of these safe VPNs for torrenting. The team and I don't condone illegal torrenting or copyright infringement. Also, make sure that you check your country's laws and regulations before deciding to torrent.
Does VPNhub Work in China? Most Likely Not
VPNhub might not work in China. On its website in the FAQs, it is stated that there were reports from users that the VPN didn't work in China among other highly-censored countries, including Burma/Myanmar, Cuba, Iran, North Korea, Sudan, Syria, Qatar, Saudi Arabia, UAE, and Egypt.
Also, it doesn't offer any obfuscation features that help bypass internet censorship. You can check out other VPNs that work in China (and some of them are also free).
Simultaneous Device Connections — Unclear
On VPNhub's checkout page, after you choose a subscription plan, it says that it allows up to 10 simultaneous device connections. However, in its FAQs, it says 3 for the Premium plan, and on its homepage, it says 5. So, this information is not very consistent and reliable even though it comes from its website.
Device Compatibility — Apps for the Major OSs and Devices
VPNhub has native apps for Windows, macOS, Android, iOS, Amazon TV, and Android TV. Therefore, you can use it on a number of devices, including PCs with Windows 10 and onwards, MacBooks, iMacs, Mac Pros iPhones, iPads, iPods, smart TVs, FireStick, Android smartphones like Samsung Galaxy, and others.
However, it doesn't work with gaming consoles and routers, and it doesn't have browser extensions.
Its free Android app has a very minimalist interface, and there aren't any settings customizations. Since only one server location is available on the free version, you can't choose any other location, too, so you just have to click on the connect/disconnect button when you're ready to use the VPN. You only have access to its FAQs, ToS, and Privacy Policy from the app.