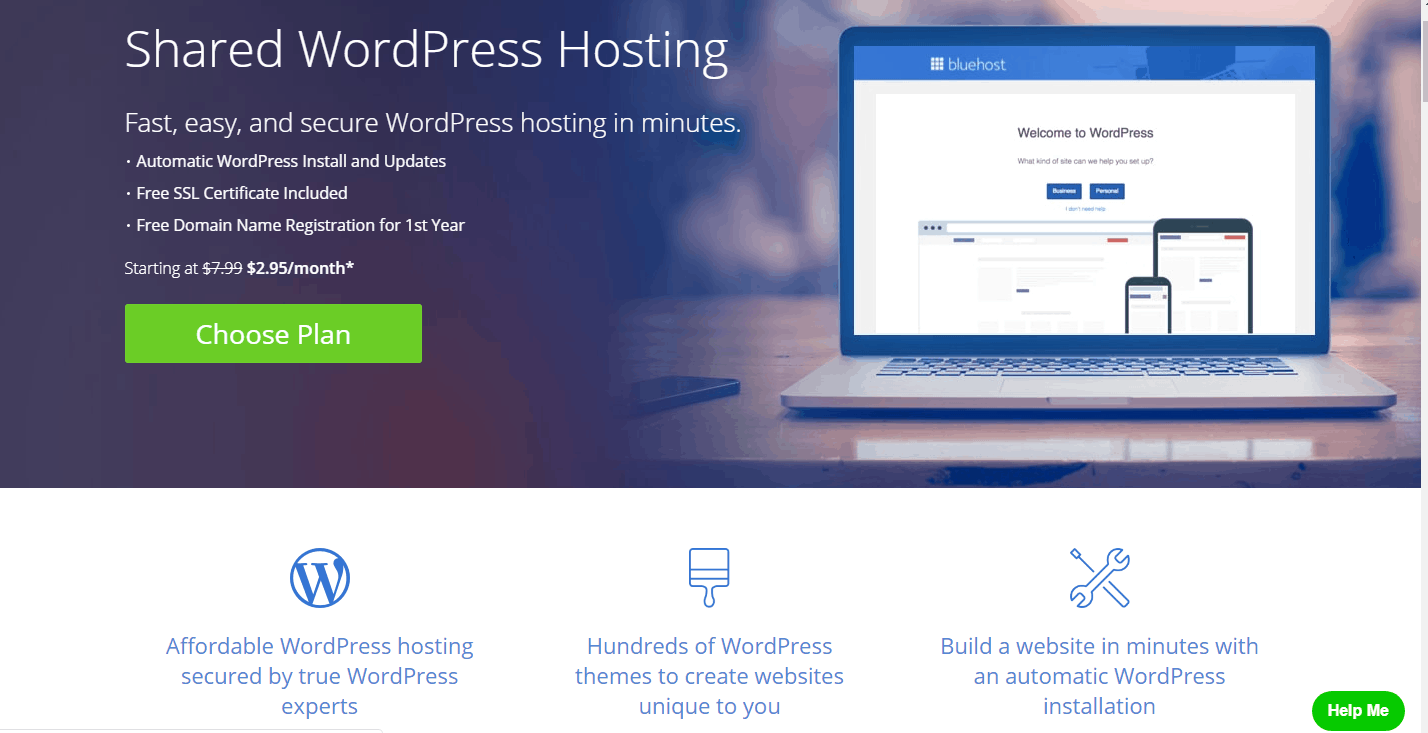 Bluehost Covers the Basics
Feature lists should always be taken with a bit of skepticism. It's not uncommon for website hosts to list cPanel's advantages as "special features," while in reality they're available with almost every hosting plan in existence.
What kinds of features do I want to see mentioned? The important ones. A content delivery network (CDN) service that improves your website's availability and speed worldwide. An integrated firewall and security suite that ensures your visitors' safety and your website's condition.
Unfortunately, most of the features Bluehost advertises belong to the first list. We'll go over them in a bit, and we're going to have some fun doing so.
To make matters worse, storage space is tight across nearly all plans. The basic WordPress hosting plan starts with just 10GB of SSD space – this might be enough for a simple landing page, but you'll quickly hit this limit as you grow. Hostinger offers 50GB of SSD storage for a much lower price, so Bluehost really doesn't have an excuse.
Bluehost gets the essentials right, at least. Here's what you can expect to find in every Bluehost plan:
SSL Certificates Ensure Your Visitors' Safety
All Bluehost plans include an SSL certificate. Providing some kind of SSL has become standard procedure with most website hosts, but it's nothing to take lightly.
SSL certificates give your website that wonderful padlock in the address bar. They encrypt your visitors' connections and guarantee the authenticity of the data sent between your server and your visitors.
Why is it so important? Because you can't run an e-commerce store without it. Additionally, Google has admitted to giving higher ranking in search results to websites with SSL. If your competitors have it and you don't, guess who's coming in second.
Automated WordPress Installations and Updates
Installing WordPress isn't difficult. It used to be annoying, but today there are one-click scripts that take care of it quickly. Still, it's great that every Bluehost WordPress plan comes with WordPress preinstalled. No need to even enter cPanel.
Additionally, Bluehost takes care of updates for you. Updates aren't complicated either, as they mostly require just pressing an "update" button, but it is easy to forget about them.
A Detailed To-Do List for Every New Website
I thought this was one of the coolest features Bluehost provides, and I have no idea why the company never mentions or advertises it.
Building a website is a process. Like all processes, it's easy to get lost in it. The first steps are clear—you need to install WordPress on your server and connect your domain. But what happens next?
Designing your pages is one step. Making SEO configurations and optimizations is another. You can find yourself lost in no time. I once thought I finished a website, only to wake up that night sweating after realizing I didn't configure backups.
Right after setting up your account, your Bluehost dashboard will show a neat to-do list of all necessary steps. After finishing a step, just mark it as done and move on. What's better than crossing items off a list? Nothing's better than crossing items off a list.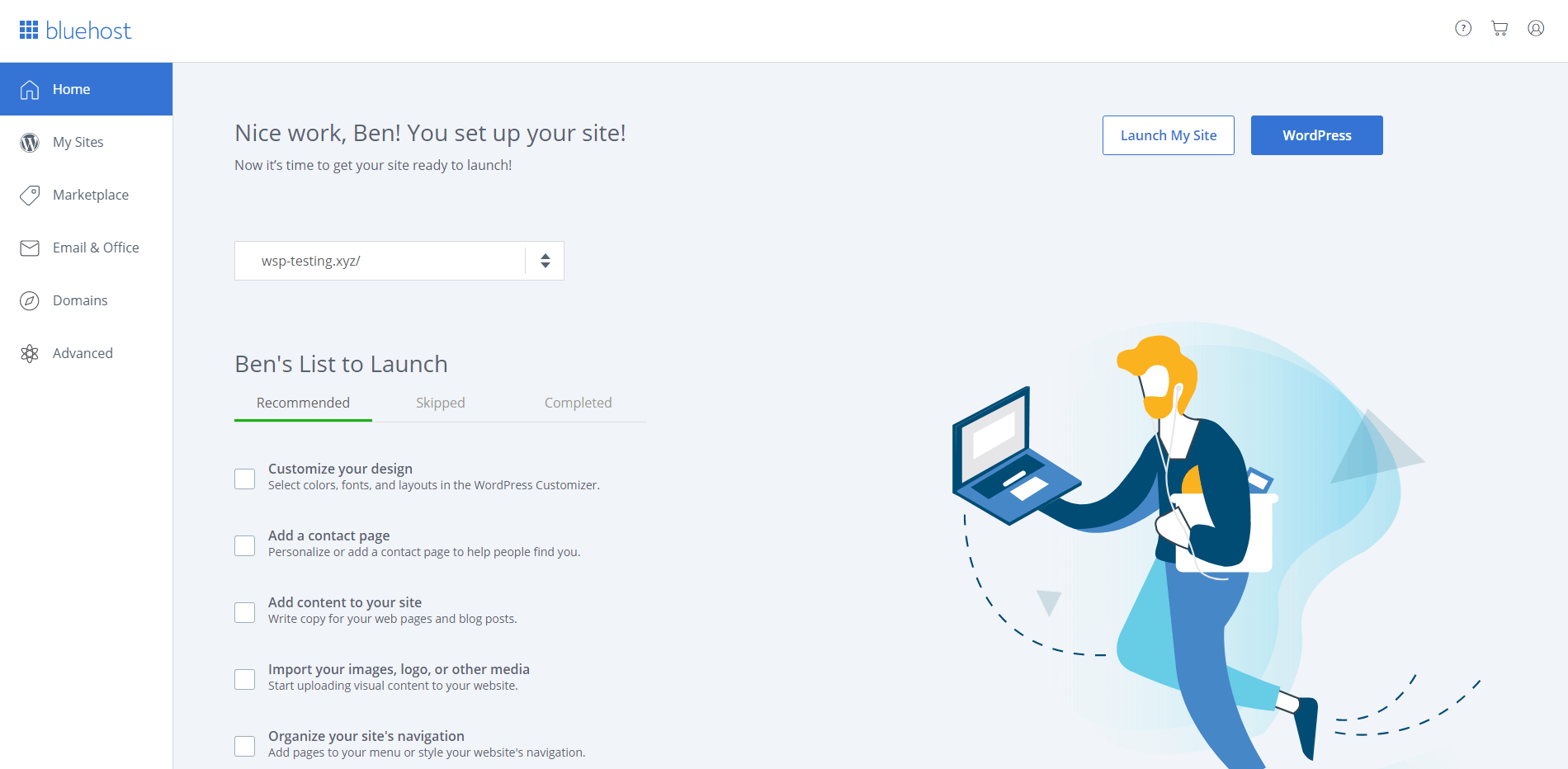 The list includes everything I mentioned earlier, as well as adding users, increasing performance, scanning for malicious files, and more. Just press "Let's Go" next to any item and you'll be directed to the appropriate screen.
If you are building a website for the first time, this list will be a blessing.
Bluehost Also Has Some Non-Features for You
All right, we've been nice – now let's enjoy ourselves. Many of the "features" listed on the Bluehost WordPress hosting page are basic functionality included with every WordPress installation.
For example, Bluehost gives you access to "hundreds of themes." But this is already one of the main features of WordPress – it isn't a feature of Bluehost. Independent designers and developers make free and premium themes for the platform, which you can then install on your own site.
My favorite has to be the "Secure Configuration of Login Credentials." This feature has Bluehost letting you change your login credentials to, and I'm quoting, "something of your choice." You choose your own password with Bluehost! Why hasn't anybody thought of this before?
But seriously folks – this last one actually results in more work for you. Instead of letting you choose your password from the start, you'll have to go into your WordPress user list and edit the admin password. There is no need for this.
Bluehost Features at a Glance