Are you looking for a month-to-month web hosting plan, with no contract or commitment? Not many of us want to be locked into two or three-year hosting deals, or pay the whole amount in one lump sum on sign up, as many hosting companies demand. That's why we have put together this list of the best month-to-month web hosting providers for you to peruse.
In total, we'll look at six month-to-month web hosting providers:
Best cheap month-to-month hosting (under $10)
1. Namecheap ($3.88 per month)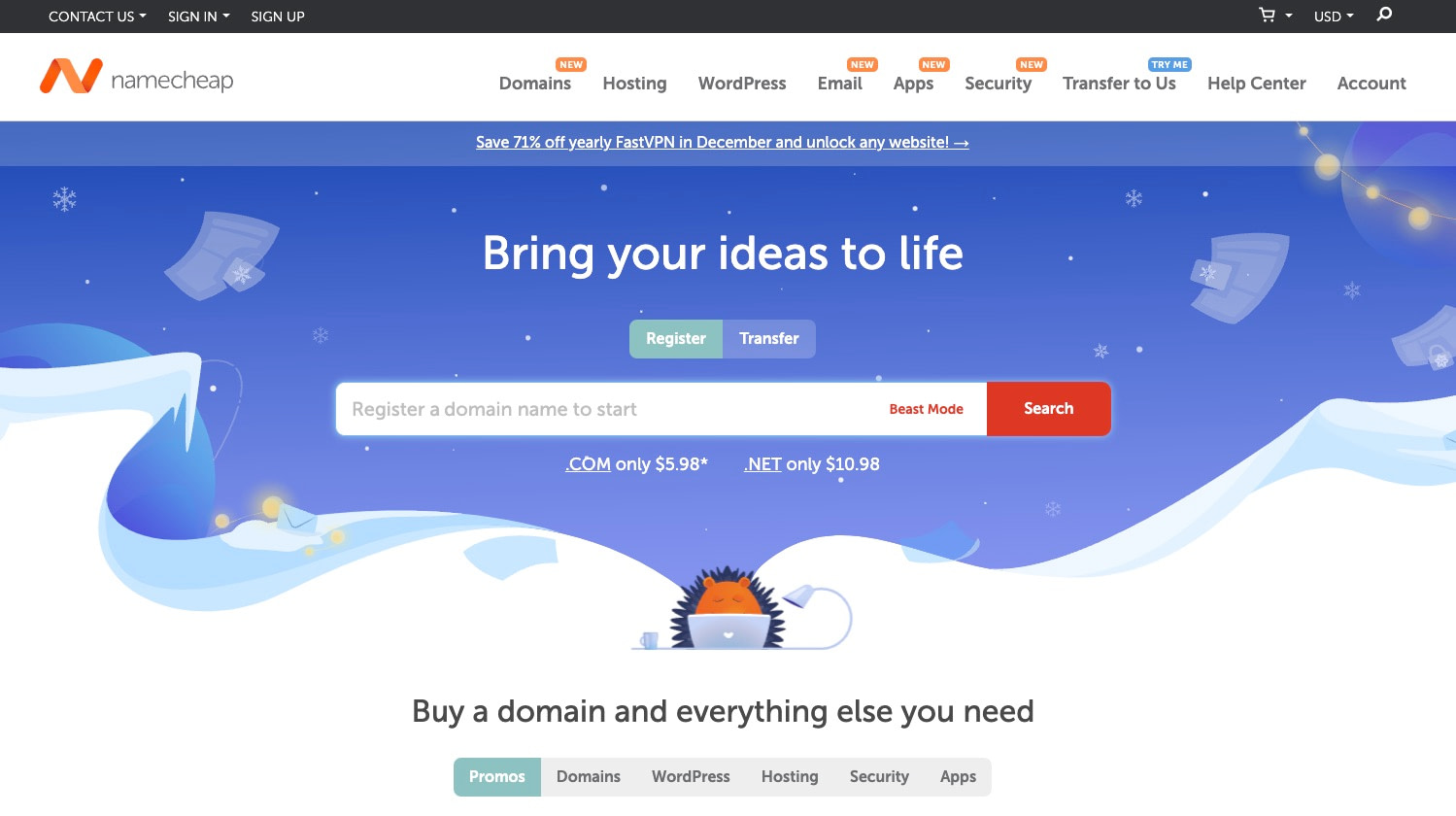 Namecheap is a popular domain name registrar which has recently been making waves in the hosting arena. Offering a range of shared, managed WordPress, VPS, and dedicated hosting plans, Namecheap is an affordable option that also offers a number of impressive features.
Top features include…
Free site migration
Free SSL certificate
One-click WordPress install
Manual and automatic backups (plan dependent)
24/7 Support
Namecheap offers a wide assortment of plans, and the option of month-to-month payments are available on every package. The entry-level shared hosting package Stellar costs just $3.88 a month. Or if you would rather opt for managed WordPress hosting, you will find prices start from just $4.88 a month.
It is important to note that Namecheap does run a selection of promotions (eg – 50% off shared hosting if you sign up for a year), but these discounts are generally not available if you only commit to month-to-month payments. However, as Namecheap prices are extremely low anyway, this shouldn't matter too much.
2. DreamHost ($1.99 first month, $7.99 after)
DreamHost is another budget hosting company that currently hosts over 1.5 million websites. Not only does DreamHost provide a selection of shared, managed, and cloud hosting packages, you will find all of DreamHost's plans can be purchased on a month-to-month basis, with no contract or commitment.
So let's now have a look at the features offered by DreamHost…
Pre-installed WordPress
Free website migration (managed WordPress plans only)
Automatic backups
100% uptime guarantee
97-day money-back guarantee (shared hosting plans only)
As you can see, DreamHost provides some useful features and tools. But how does its pricing work out?
Although DreamHost advertises low discount prices, these are only available for anyone signing up to a three-year plan. So, if you want to benefit from one of its month-to-month web hosting payment plans then you will have to accept substantially higher prices.
DreamHost offers two shared hosting plans, with the entry-level Shared Starter package costing $1.99 for the first month, and then $7.99 after that. However, if you are looking for managed WordPress hosting you can expect prices to start at $19.95 a month.
👉 Our DreamHost review
3. Hostinger ($9.99 per month + one-time $4.99 setup fee)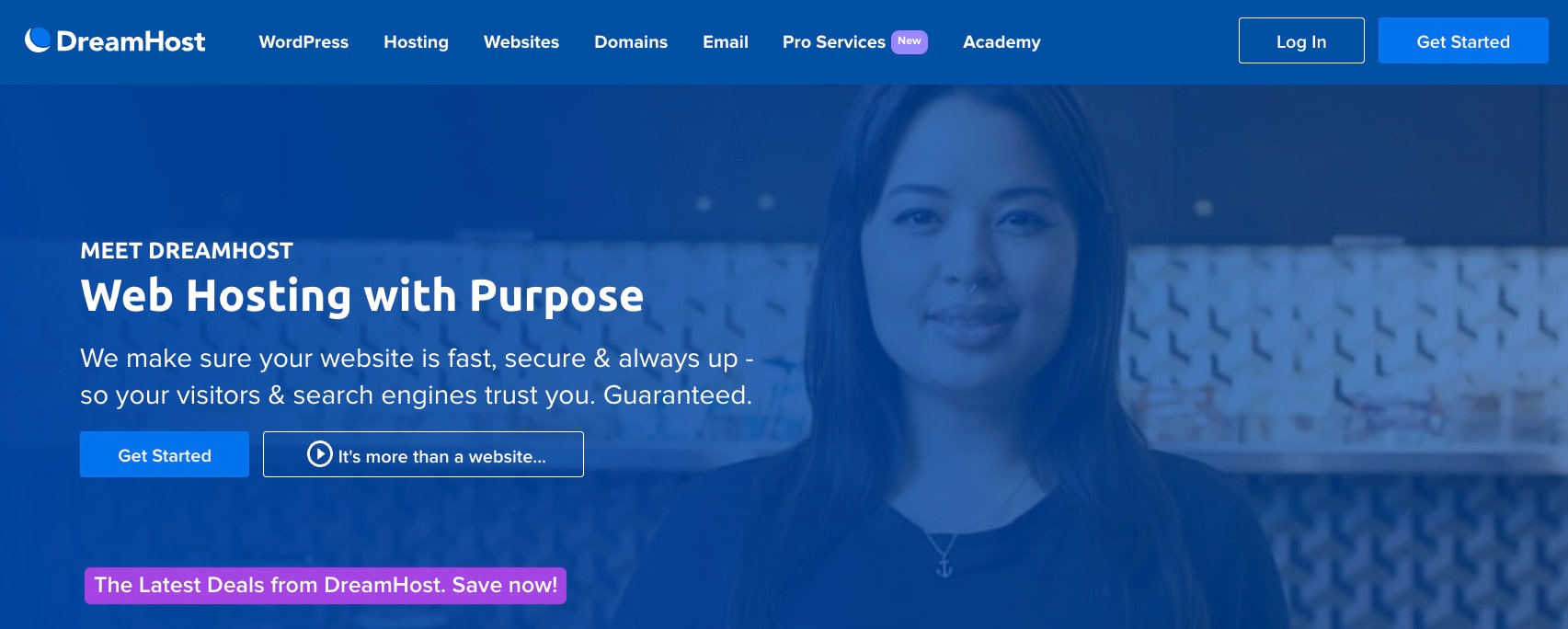 Hostinger is another popular hosting company, currently providing services to over 29 million customers, in 178 countries. Offering a range of hosting options, including shared, cloud, and VPS hosting, Hostinger also provides numerous tools like its purpose-built website builder.
Here are some of Hostinger's top features…
One-click WordPress installation
Unmetered bandwidth (excluding the entry-level shared plan)
Easy website builder
Free SSL certificate (plan dependent)
Backups
99.9% uptime guarantee
So, how much can you expect to pay with Hostinger if you opt for one of its month-to-month web hosting payment plans?
Hostinger offers a range of discount prices. However, these are not available if you want to pay on a month-by-month basis.
For month-to-month payments, shared hosting starts at $9.99 a month (plus the $4.99 set up fee). For cloud hosting packages, expect to pay upwards of $29 per month with month-to-month billing.
Hostinger also charges a one-time $4.99 set up fee on all packages if you want to pay monthly.
👉 Our Hostinger review
4. A2 Hosting ($16.99 per month)
A2 Hosting is an independently owned hosting company that provides a personal touch. Owning their own data centers in the US, Europe, and Asia, A2 Hosting boasts secure servers and customer choice over where websites are hosted.
Here are some of the top features from A2 Hosting…
Free site migration
Automatic backups (plan dependent)
Anytime money-back guarantee
Free SSL certificate
Free Website Builder (shared plans only)
99.9% uptime guarantee
If you want to use month-to-month pricing, you'll pay $10.99 per month for A2 Hosting's cheapest offering.
👉 Our A2 Hosting review
5. WP Engine ($24.00 per month)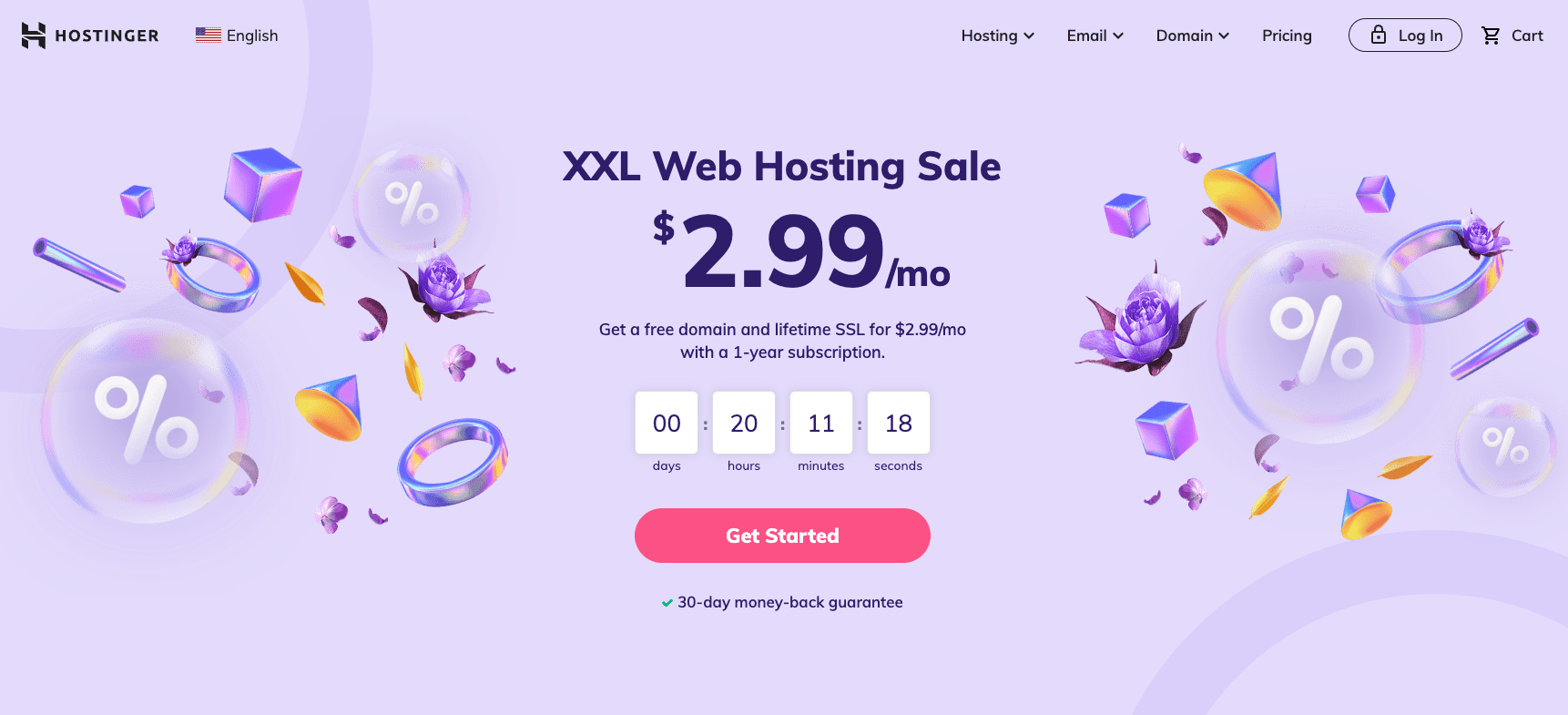 WP Engine is a high-end managed WordPress hosting company, with clients ranging from small businesses to large global enterprises. Currently providing hosting to over 120,000 customers in 140 countries, WP Engine is renowned for its top-level hosting service.
Let's check out some of its best features…
Free site migration
35+ free StudioPress themes
Distributed global CDN
Free staging environments
Free SSL certificate
24/7/365 expert WordPress support
WP Engine offers an array of professional WordPress services and features, ensuring full support for your growing business.
WP Engine provides transparent pricing from the outset – so the prices advertised on the homepage of their website won't increase if you sign up for month-to-month payments. Prices for WP Engine's services start at $24 a month, with custom plans also available if there isn't a package to suit your needs.
It is also worth pointing out that, if you do decide to commit to a year's contract, WP Engine will give you two months of free hosting.
👉 Our WP Engine review
There are also some good cheaper WP Engine alternatives if $20+ per month is out of your budget.
6. SiteGround ($19.99 per month)
SiteGround is a big player in the hosting game and provides an array of hosting types, plans, tools, and features. They also offer month-to-month web hosting payment plans for their shared hosting packages.
Some of the features you get as part of the package are:
Free daily backups
Free WordPress install
WordPress autoupdates
WordPress advanced security
Free Let's Encrypt SSL certificate
SSD storage
WordPress special cache
On the entry-level plan, you can host a single website. If you need more space on your server, you can upgrade to the GrowBig plan, which gives you the possibility to host unlimited sites.
👉 Our SiteGround review
Final thoughts on month-to-month web hosting payment plans
If you don't want to get locked into paying for years upfront, there are plenty of great month-to-month hosting providers, as evidenced by this post.
If you're looking for the absolute cheapest month-to-month web hosting, Namecheap is the clear winner at just $3.88 per month. On the other hand, if you want something more premium, WP Engine makes a good option.
We recommend you to also check our list of the cheapest WordPress hosting services that offer the best value for money.
Any questions about the hosting providers mentioned in this article? Please feel free to ask away in the comments below…
* This post contains affiliate links, which means that if you click on one of the product links and then purchase the product, we'll receive a commission. No worries though, you'll still pay the standard amount so there's no cost on your part.